Net1 TV is a service offered to Net1 customers only.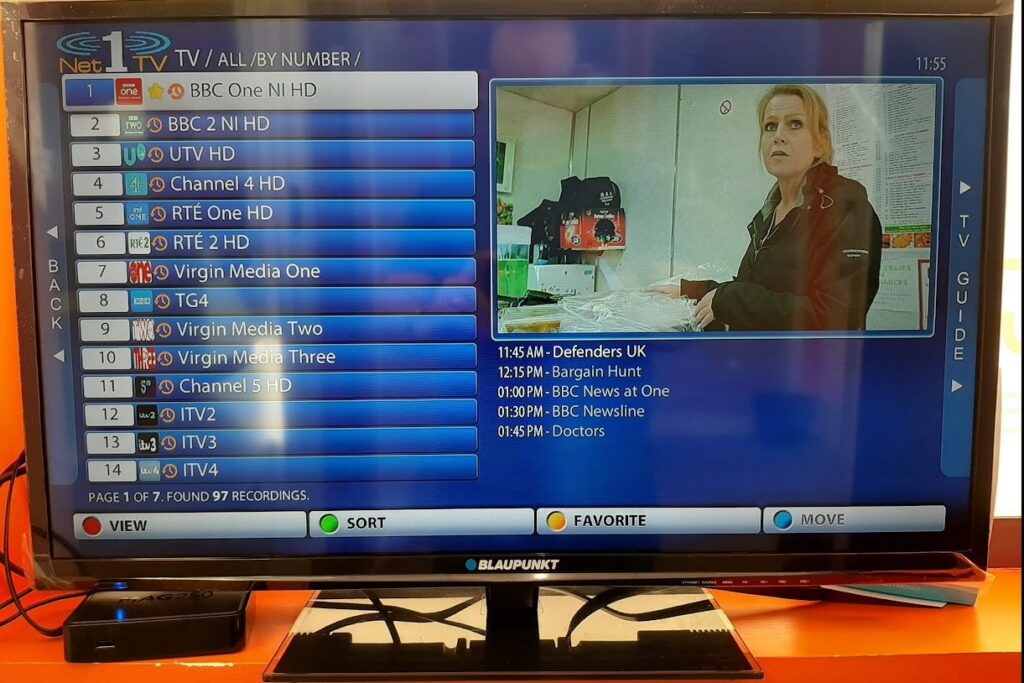 Net1 TV offers the best of the free to air offerings from Saorview in ROI, Freeview in NI and Freesat in UK. The service is delivered via your Net1 internet connection to a small 'TV Box' that is wired directly to a HDMI socket on your TV. We provide a free 7 day catch up service on the main terrestrial channels shown in bold below.
The channels available are:
BBC1 NI, BBC2 NI, UTV, Channel4, RTE1, RTE2, VirginMedia1, TG4, VirginMedia2, VirginMedia3, Channel5, ITV2, ITV3, ITV4, Film4, E4, More4, ITV Be, 5Star, 5Select, 5USA, VirginMedia4, Drama, CBS Reality, Great TV, Blaze, Horror Channel, Dave, Pick, Food Network, Really, Quest, Great Movies Action, Great Movies, Challenge, Create And Craft, Gems TV, CBS Justice, DMAX, CBS Drama, Yesterday, BBC Four, Dave Ja Vu, BBC Three, Quest Red, BBC Alba, STV Scotland, ITV1 (London Region), PBS America, HGTV, Paramount Network, 4 Seven, BBC Scotland, S4C, Sky Arts, Eurosport1 DE, Freesports, RTE Junior, CBBC, CBeebies, CITV, POP, Tiny Pop, Pop Max, EWTN, Revelation TV, Dunamis TV, Islam Channel, BBC News, RTE News Now, Sky News, CNN International, Sky News IE, CNBC Europe, GB News, BBC Parliament, Oireachtas TV, Al Jazeera English, Euronews, Geo News, France 24, TRT World, TVC Nigeria, RAI Italia News, TVE Spain News 24, Channels24, Bloomberg, Espreso TV Ukraine, Talk TV, NHK World Japan, Trace Hits, 4Music, Trace Vault, Clubland TV, Now 80's, The Box, Magic, Kiss, Box Hits, Kerrang, Rok TV, PTC Punjabi, NTV Bangladesh, Sanskar TV.
Note that as channels are added or removed from the free to air services, this list may change.